Grow Hydrangeas
Hydrangeas are showy flowers that brighten any winter garden. While they have a reputation as water guzzlers, their water needs can be reduced with proper siting out of direct sun and lots of mulch to hold moisture in. Small additions of aluminum sulfate in the weeks prior to spring bloom can transform some pink-flowered varieties into blue beauties. Here are some favorites.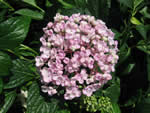 'Ayesha'
– A soft floral scent rises from the mauve-pink flowers on this
Hydrangea macrophylla
hybrid. Change them to cornflower blue with aluminum sulfate. Serrated leaves are deep green. Grows 3 to 4 feet tall and wide. Prolific bloomer.
'Nigra' –
Black stems accent the dark green leaves and saucer-sized rosy pink mophead flowers. Aluminum sulfate turns them blue flushed with purple. Reaches 3 to 4 feet tall and wide. Blooms from spring through August.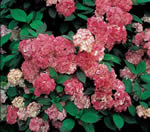 'Preziosa' –
Stems are purple and leaves have a purple haze on this dramatic mophead with creamy flowers that turn rose as they age and violet-pink when dry. Grows 2 ½ feet tall and wide. Dense habit.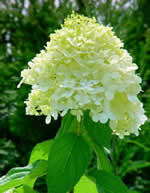 'Limelight' –
This
H. paniculata
hybrid from Holland is a vigorous grower to 5 feet tall. Lacy conical booms are a refreshing lime green with a blush of pink as they age. Open habit.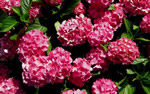 'Forever Red' –
Dinner plate-size blooms are the reddest found on a hydrangea. Mophead flowers have a purple cast as they age. Stems are burgundy-red. Shrub reaches 4 feet tall and wide.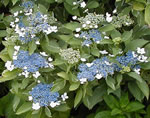 'Mariesii Variegata'
- Green foliage splashed with cream and light pink lacecap flowers brighten shade gardens. Flowers turn blue with addition of aluminum sulfate. Can take full sun on the coast. Grows to 3 feet tall and wide.