Grow Classy Camellias
This month, when flowers on early-blooming sasanqua camellias are fading, the japonica and reticulata camellias blossom to brighten winter-weary landscapes. Here are some of favorites. Plant them now when these handsome shrubs are in bloom and vegetatively dormant.

'Nuccio's Carousel'
– From the famed breeders at Nuccio's Nursery in Altadena, this tall, upright japonica has semi-double warm pink flowers with yellow stamens. Petals are slightly darker at the edges. Long bloom time.

'Buttermint'
– Unusual flower color plus fragrance combine in this fast growing shrub. Small, ruffled blossoms in creamy yellow with buttery centers cluster up and down branches, lighting up the glossy, dark green foliage. Grows 6 feet tall.

'San Dimas'
– Semi-double orange-red flowers centered with yellow stamens glow on this striking shrub to 5 feet tall. Can be hard to find.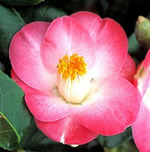 'Sunny Side'
– Soft white, pink-blushed single flowers with golden stamens. Compact, upright growth. "Very fresh and clean looking," she says.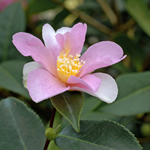 'Yume'
– Viruses cause the variegation in most camellias, but not Yume (which means dream). Genetic changes explain why its flower petals alternate between dark and light pink. This low-growing shrub is great for container planting.
'Unryu'
– Contorted stems and a weeping form make this one of the more unusual japonicas. Add single dark-red flowers and it's a garden showstopper.

'Nuccio's Gem'
– This classic white double-flowered camellia is prized for its elegant blossoms and luxuriant foliage. Thrives along the coast where it can grow more than 6 feet tall. Inland, try the more cold tolerant 'Silver Wave'.
Grow camellias in shade "bright enough to read in,". Plant them in well-drained soil with the root ball slightly above the soil line.