A Garden for All Seasons
If the garden laboratory is a pleasant place, student gardeners will be eager to return to learn more about plants. One definition of a garden is "grounds adorned with flowers, shrubs, and trees for public enjoyment".

When children are in their garden they should be able to see beautiful plants in every season. San Diego County's climate offers opportunities for schools to develop a garden that will include blooming plants year-round as well as vegetables that will grow in all seasons. Spaces allocated for annuals, biennials, and perennials will result in a beautiful year-round garden. Vines growing on perimeter fences will add to the attractiveness of the garden. Some schools design spaces for plants that will attract birds and butterflies. Permanent plantings of shrubs and trees will make the garden more attractive. Shrubs, trees, and vines may also shade growing areas and will, therefore, influence what plants are selected for these areas.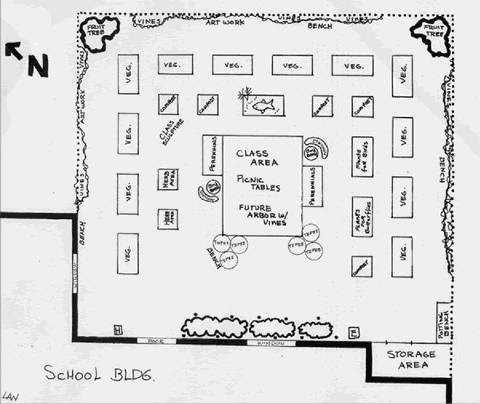 The final design reflects the location of each item in the garden.

Art in the garden adds to the beauty and provides an ideal place to display students' projects. Sculpture, murals, and other art forms will add beautiful elements. Allow sufficient space to place art projects throughout the garden.