Donations of Materials and Goods
Have students list the needs and possible sources. Work with them to develop a list of resources and contacts. Encourage students to bring seeds or plants from home.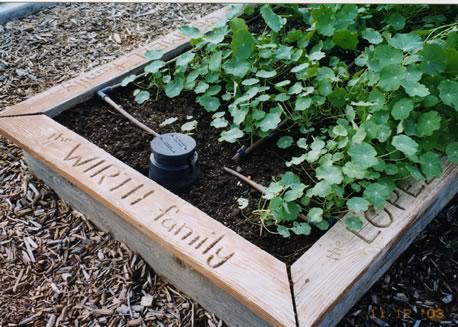 At this school, families made contributions to fund the cost to build raised beds. The family names were carved into the raised bed edging to recognize their contribution to the school garden.
Donation sources might include:
Local garden center - discarded plants, seeds, containers
Local contractors - lumber for borders, stakes, tool sheds, boxes, trellises, fences, seed flats, compost bins
Hardware stores - tools, old or discontinued styles
Yard sales and thrift stores - bargain items
City maintenance departments, private tree trimming companies or utility companies for wood chips and mulch for beds/paths
School cafeteria - fruit and vegetable scraps for compost piles (check school regulations on disposal of food scraps)
Fencing companies, pool or landscape contractors - donations
Wholesale seed companies - free catalogs